Piñalim Herbal Supplement Bags - BUY 3 GET 1 FREE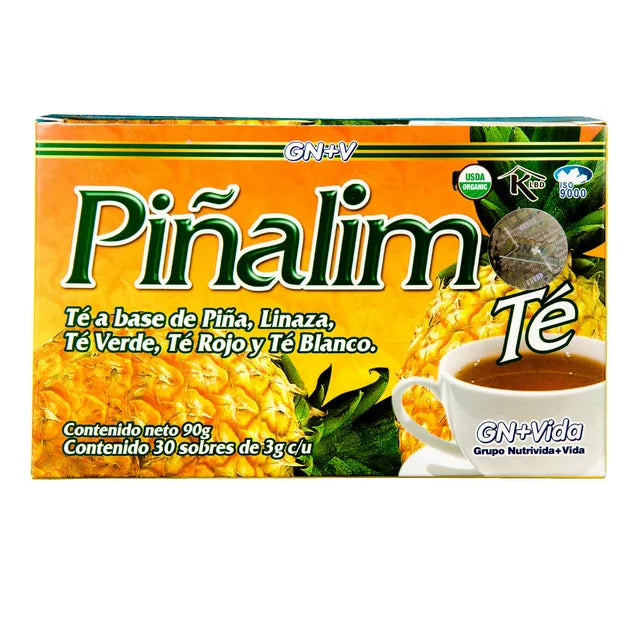 Piñalim is a remarkable natural tea specifically formulated to effectively cleanse and rejuvenate the digestive system. Crafted with a harmonious blend of wholesome ingredients, this invigorating tea offers a refreshing and flavorful way to promote digestive health.
Each serving of Piñalim contains a unique combination of ingredients renowned for their beneficial properties. The tea incorporates the tropical sweetness of pineapple, known for its rich vitamin content and digestive enzymes that aid in breaking down food. Flax seeds, another key component, contribute dietary fiber and omega-3 fatty acids, which support regularity and overall gut health.
The tea also features a medley of red, white, and green teas, each offering its own set of advantages. Red tea, derived from the Camellia sinensis plant, contains antioxidants that can help protect the digestive system from oxidative stress. White tea, with its delicate flavor, provides a subtle yet impactful contribution to the tea's composition. Meanwhile, green tea, celebrated for its numerous health benefits, contains catechins and polyphenols that may aid digestion and support a healthy gut microbiome.
Piñalim is conveniently packaged in units measured in ounces, allowing for easy preparation and portioning. By incorporating this exceptional tea into your daily routine, you can take proactive steps towards promoting a clean, well-functioning digestive system. Experience the natural synergy of pineapple, flax seed, and a blend of red, white, and green teas, and embark on a journey towards improved digestive wellness with Piñalim.
FREE SHIPPING WITHIN USA ON ORDERS OVER $75!

We offer FREE regular shipping in the USA. If you prefer you can choose a different shipping method available for an additional cost.
Returns and Exchanges
If you are not satisfied with your purchase, you may return the item within sixty (60) business days of the purchase. Regular priced items qualify for returns or exchanges. On SALE items do not qualify for returns or exchanges. See details* (Return Policy)